Unicloud Elearning
Intergrated into the unicloud system guru elearning is an industry leading and scorm compliant elearning platform.

Click on the tabs below to see some of the core features
Elearning Features
Course Manager
Create unlimited online courses with modules & lessons, on Guru's easy interface.
With our online course management system for Joomla CMS you can add as many courses as you want and manage them on the Courses Manager.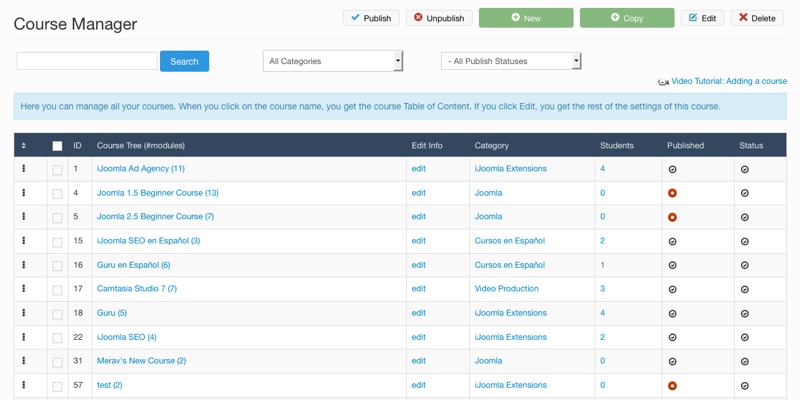 General Tab:
Enter the course name, category and author.
Choose a difficulty level and enter a description.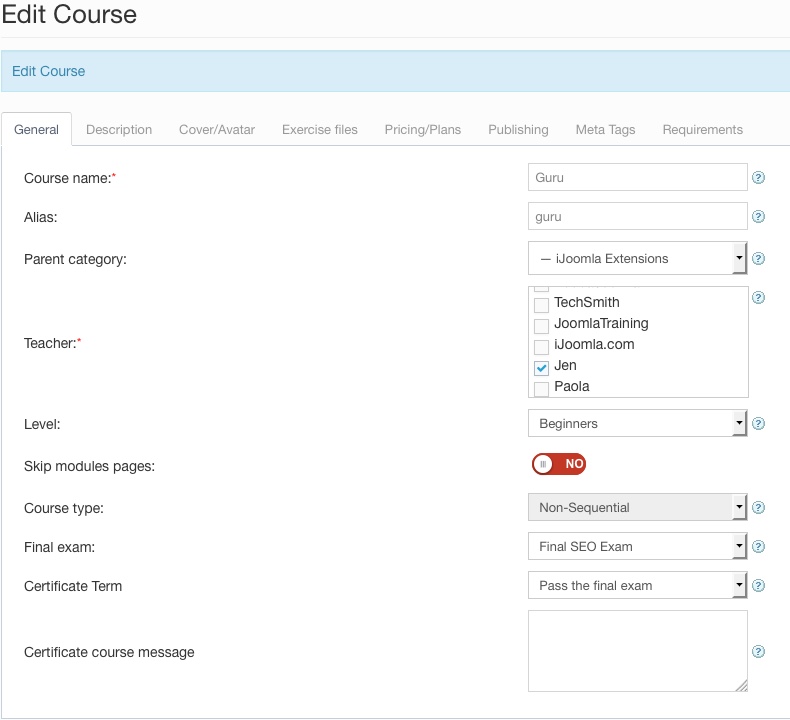 Image Tab:
Select the course image.
The image will be displayed on the course page on the top, left or right.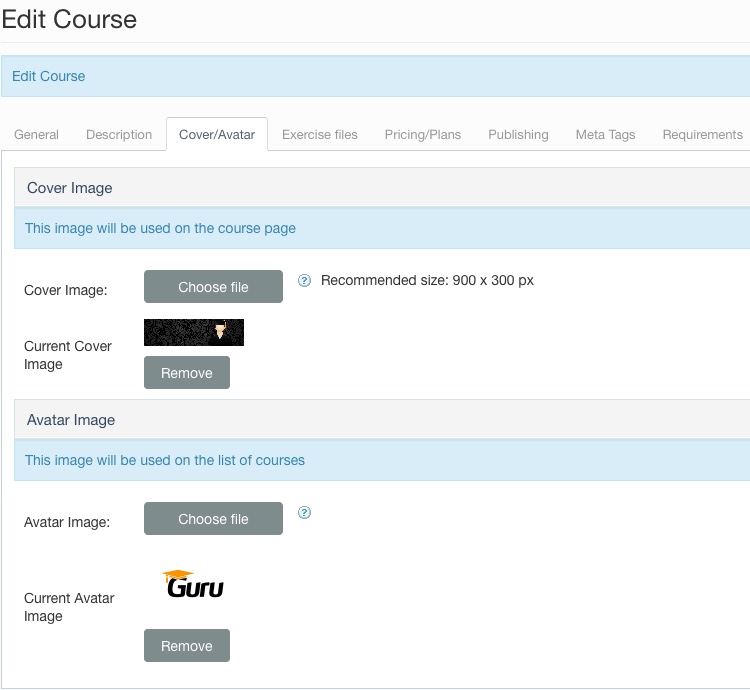 Files/Media
Select files to show on the front-end.

Requirements Tab
Select prerequisite courses, if any.
Enter any other prerequisite books and materials.

Pricing/Plans Tab
Select the subscription plans and set the price.
Select the renewal plans and set the price.
Select which subscription e-mail reminders will be sent.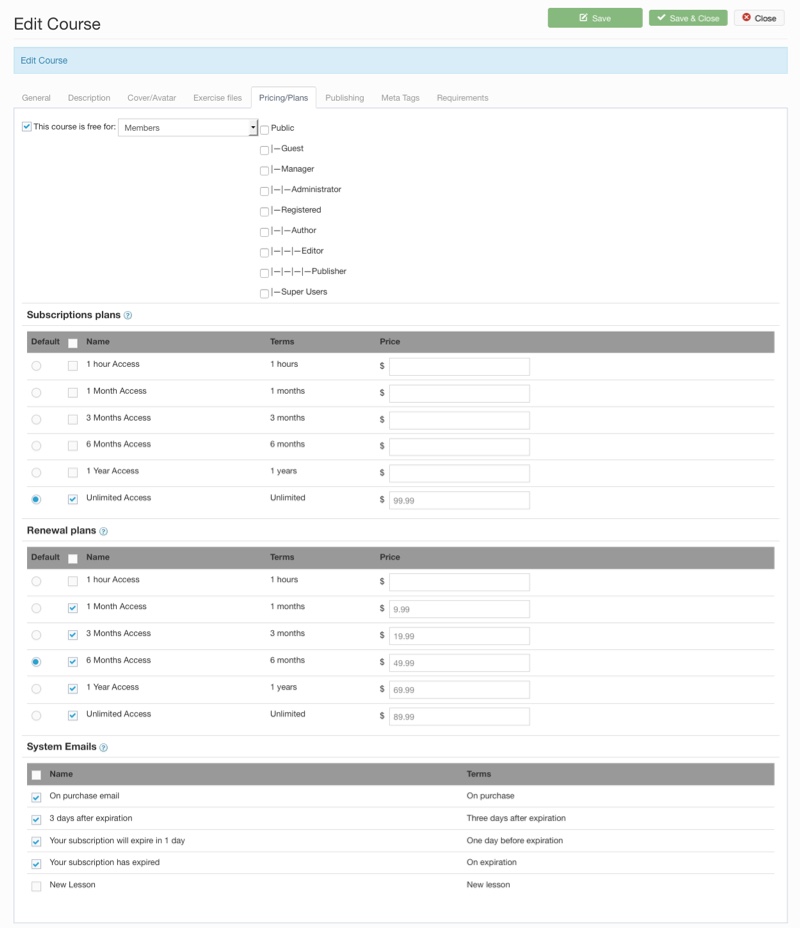 Publishing Tab
Select whether or not the course will be published.
Select a start and end publishing date.

Metatags Tab
On this tab, you can enter the metatags for the courses page. Meta tags are important for search engine optimization.
Title metatag
Keywords metatag
Description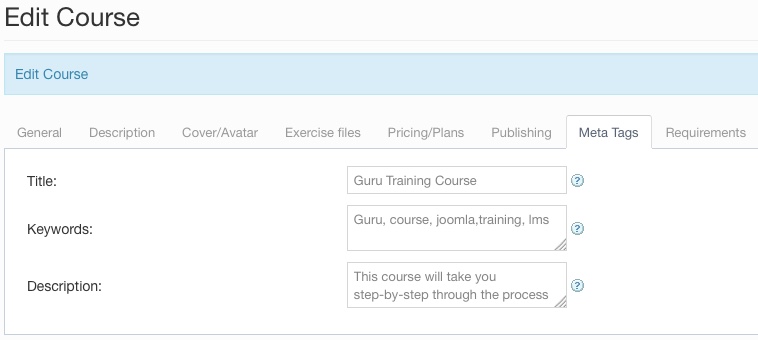 Once you create the course, you can start working on your course tree. Just click on the course name.

And create your course tree.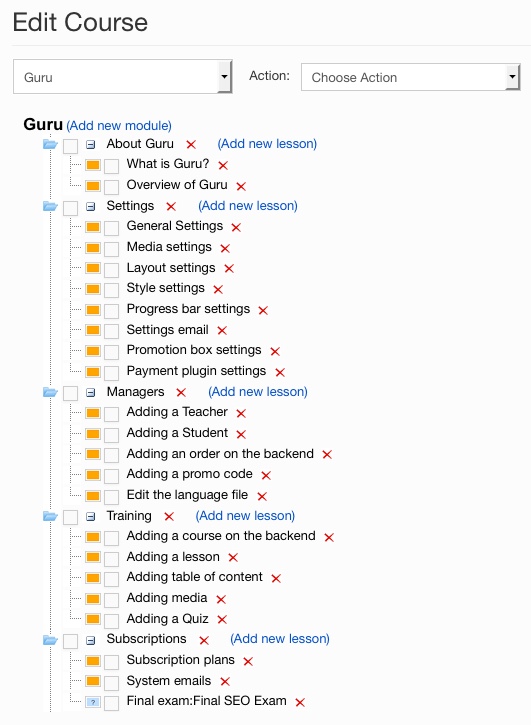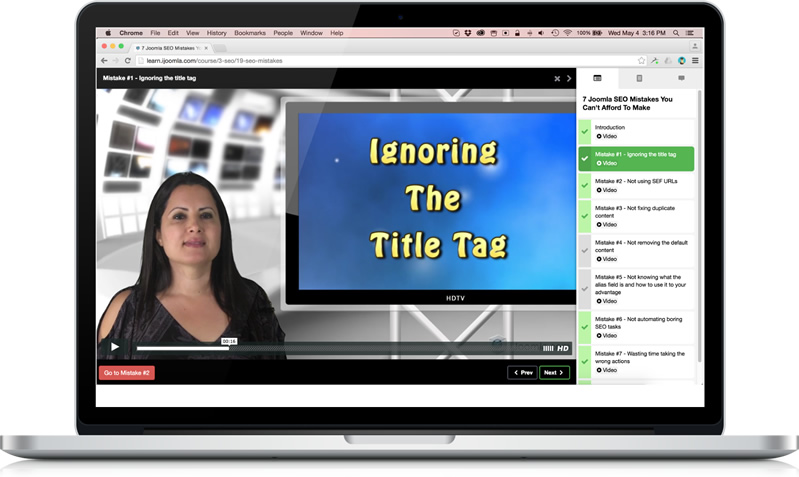 Add lessons to your learning modules with media, text, files, links and more
Our LMS for Joomla component allows you to add lessons to your learning modules. Lessons contain the actual learning material, whether it's a video, text, document, quiz, URL, file or other type of media.
To add a lesson, click on "Add Lesson" on the course tree.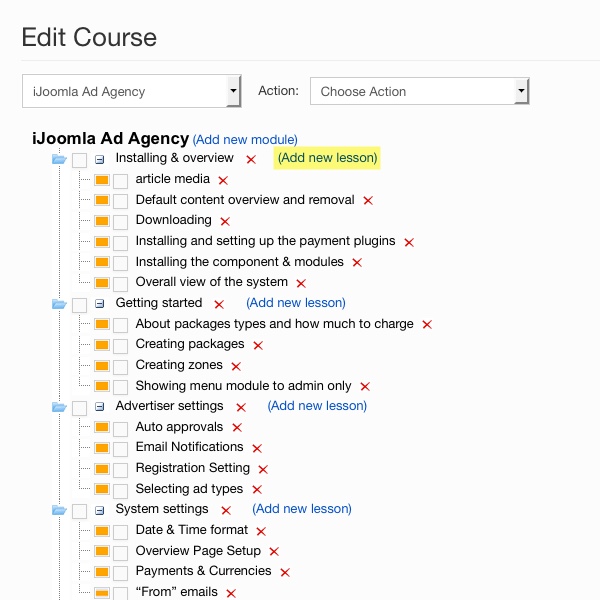 A Lightbox Style Pop-Up Will Open with Four Tabs:
General Tab
Choose a lesson name and alias.
Choose the difficulty level.
Choose who can access this lesson (visitors, registered users, students).
Choose one of 12 available layouts.
Set duration.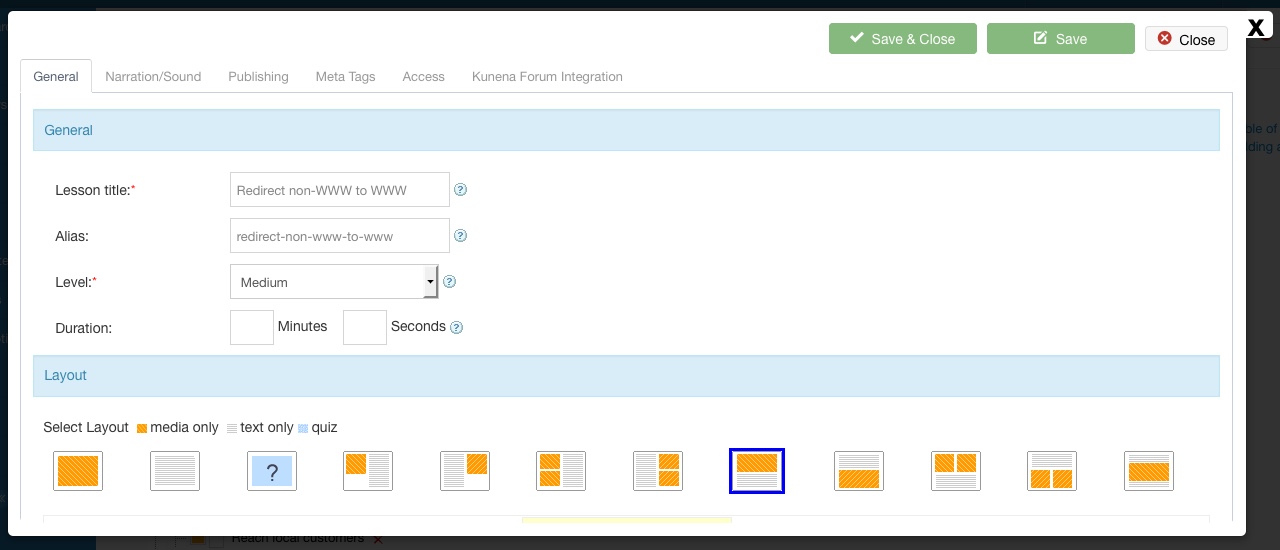 Narration/Sound Tab
Select a narration or sound that will play automatically when the lesson is loaded. This is very useful if you want your student to hear you giving them instructions such as "Click on the document below, fill it out and send it to me" or "Read this article and then move to the next step."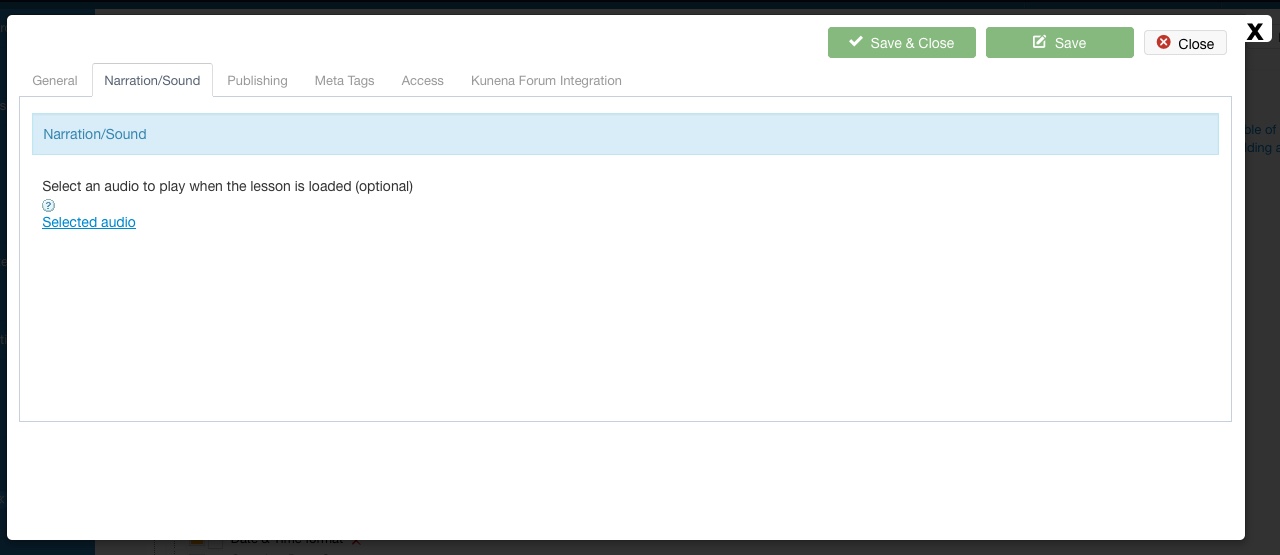 Publishing Tab
Published – yes or no.
Date start.
Date finish.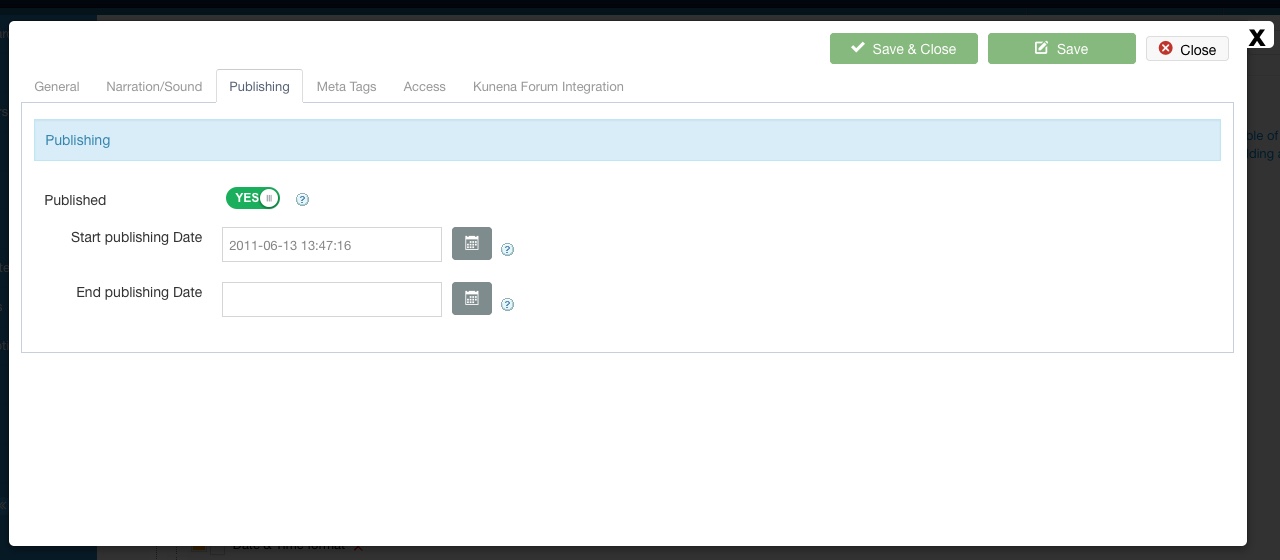 Metatags Tab
Title, keywords, description metatags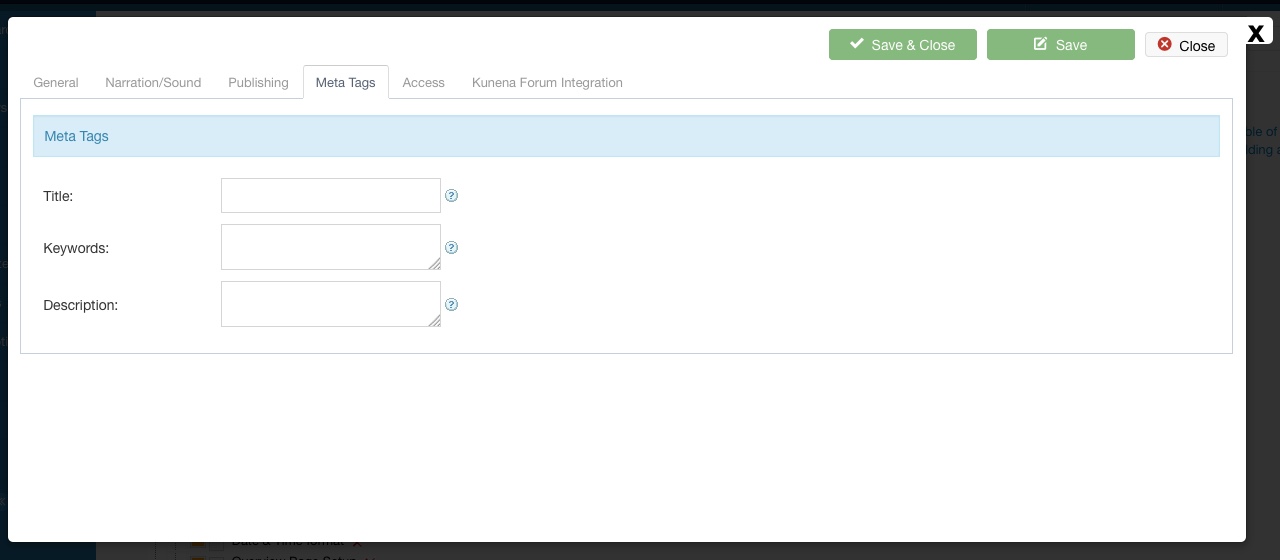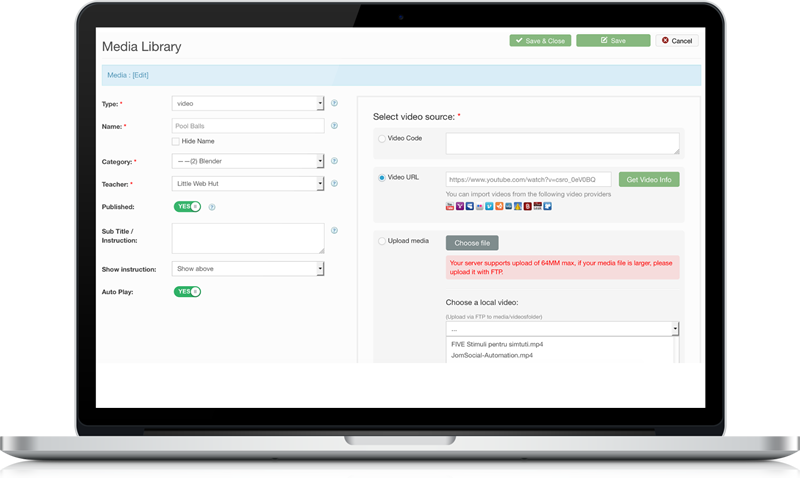 Add any type of media to your media library: video, audio, text, files and more!
Our Joomla LMS Media Library, allows you to create a comprehensive library of all types of media: video, audio, documents, files and text.
Each of the media files can be used and reused in any of your courses modules/lessons.
View All Your Media in the Media Library: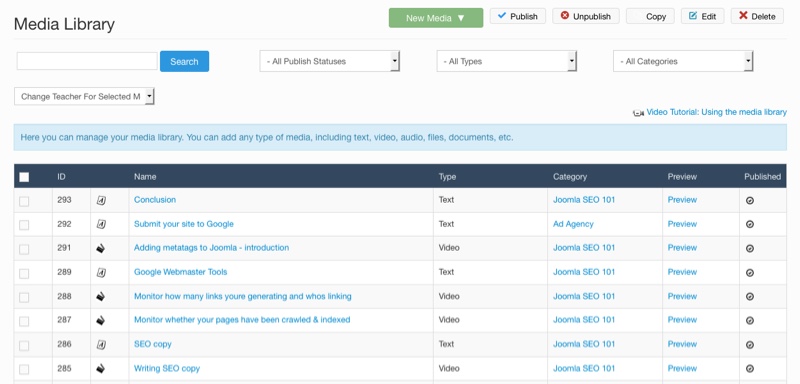 Video – Supports Three Ways of Adding Videos:
External sites like YouTube.
Local videos on your server that you can upload or select from existing videos.
Video code (just copy the source code from any video on the Web).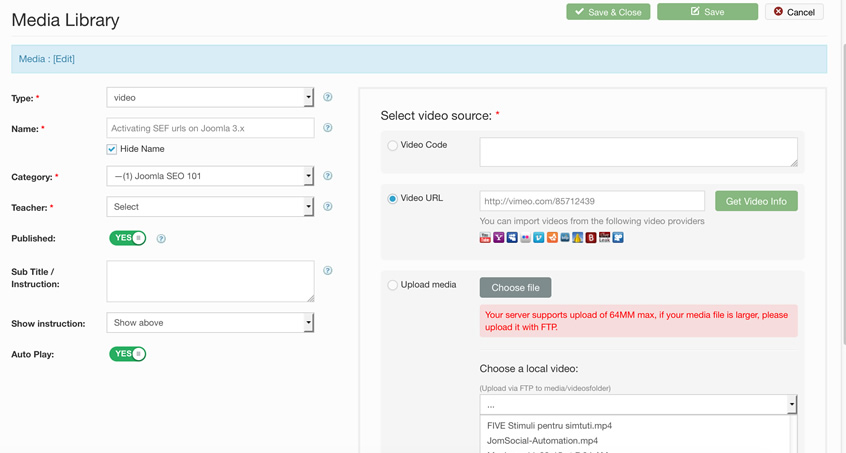 Audio – Supports Three Ways of Adding Audio:
Audio URL - simply enter the audio file URL.
Upload an audio file or select existing audio files.
Audio code (enter the audio code from another site).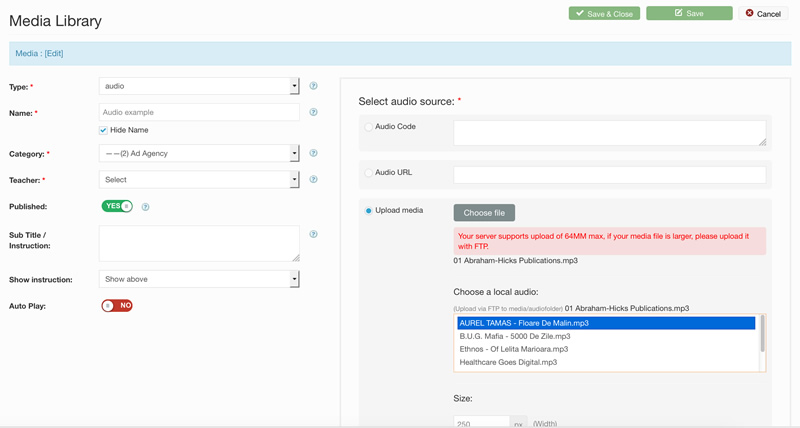 Document – Select One of Three Ways to Add a Document:
Document URL - enter the document file URL.
Upload a document, PDF or Word Doc.
Select an existing document.
Choose How to Display the Document:
Inside a wrapper.
As a link to the document.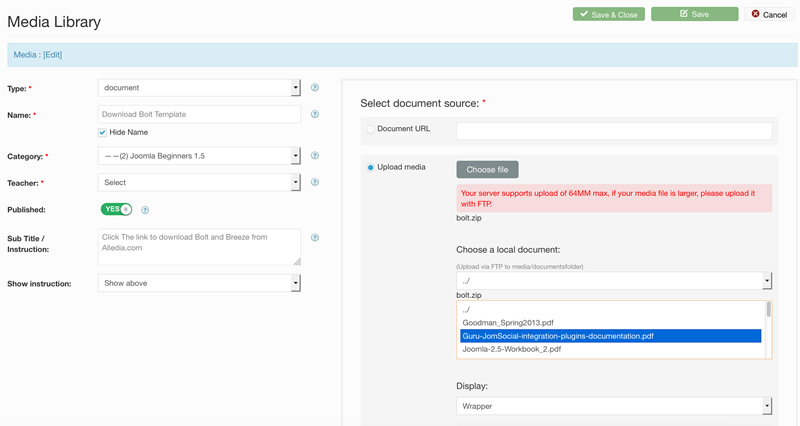 URL – Enter a URL:
Select One of Two Ways to Display a URL:

Image – Add Any Image to Your Media Library:
Choose the size.
Choose whether it's proportional by width or by height.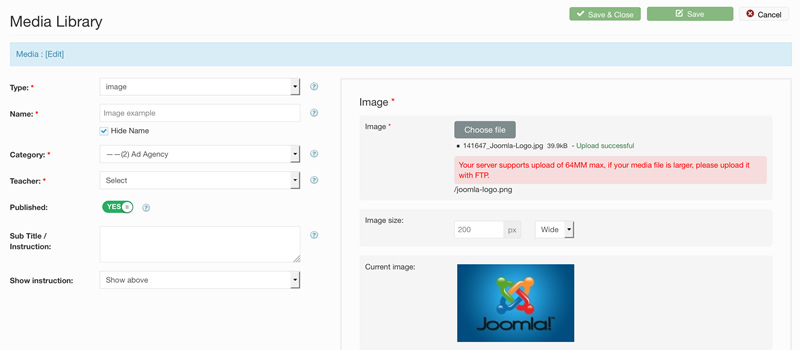 Text – Add Text into the HTML Editor to Be Used Later:

File - Upload .exe and .zip files in Two Ways:
Enter the file's URL.
Upload the file.
Add batch videos from YouTube or Vimeo
To save a lot time, you can import whole playlists/albums from YouTube or Vimeo. Lessons will automatically be created for these videos. Read more about this feature on our blog.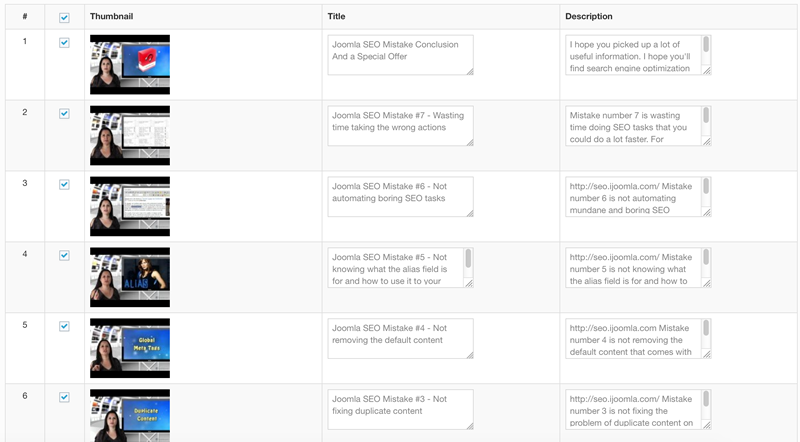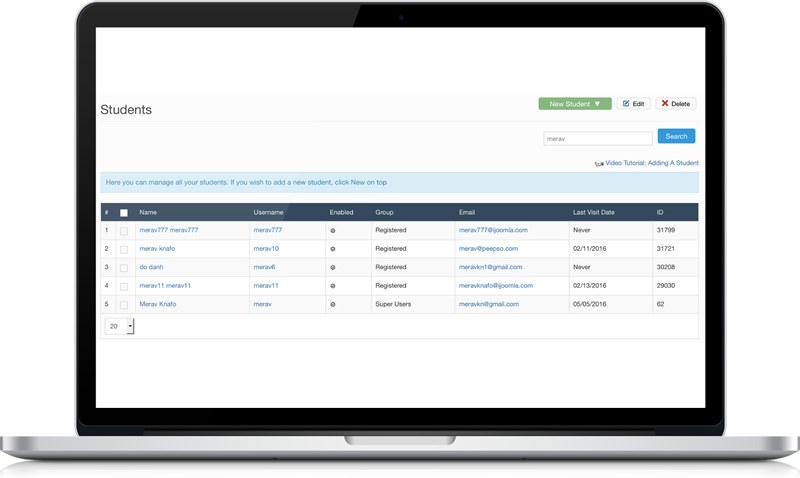 Manage all your students in one place, add/remove students and see their progress.
Now you can manage students on Joomla LMS system easily! The Student Manager allows you to manage all of your students in one place. In addition to being able to add/edit/delete students, you can also monitor their progress on your courses, review their orders, and more.
You Can View All of Your Students in the Student Manager: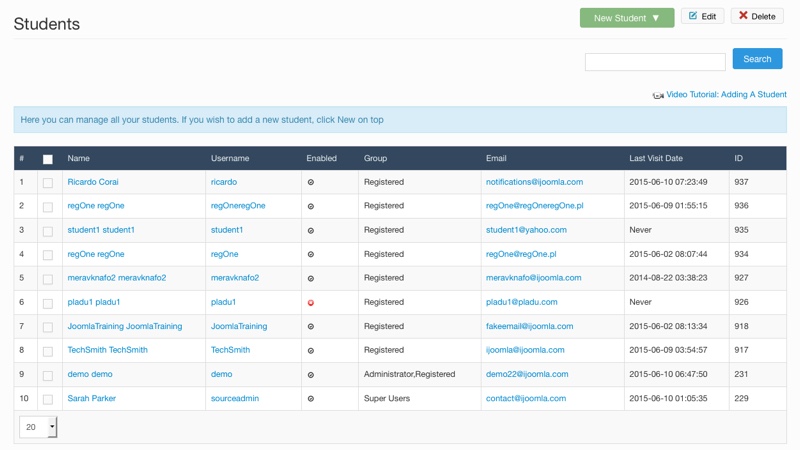 You Can Add New Students in the Student Manager: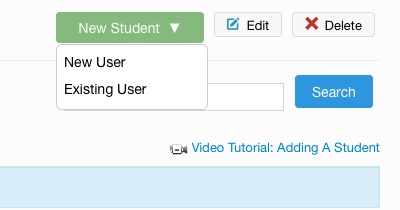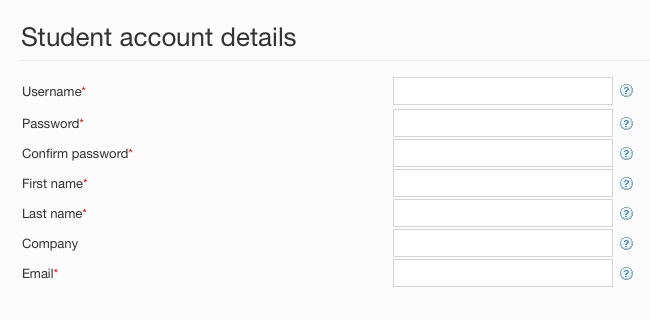 Student and Quiz tracking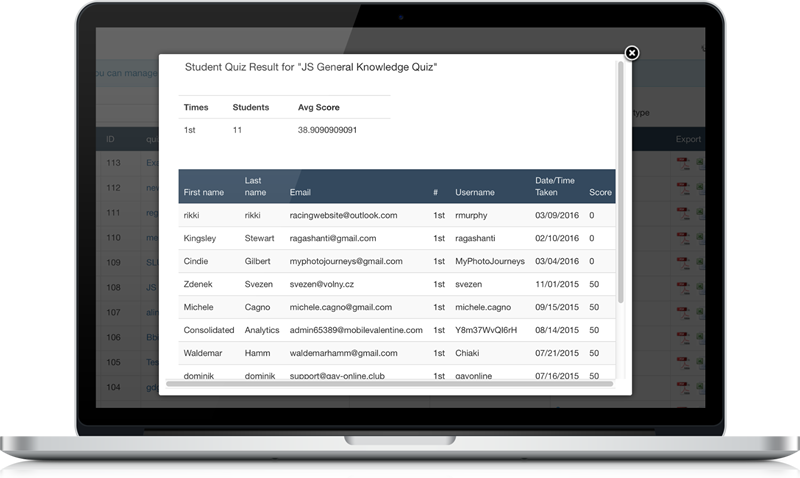 Track student progress and quizzes to know where they stand on each course they take.
Our Joomla LMS component allows you to track your students progress and also have quiz tracking built in!
Feature details:
The course manager now shows the number of students enrolled in each course.
You'll be able to click to see which students have enrolled.
Check where each student is in the course (right down to module and lesson).
View the last time they visited (so you can spot the slackers — and those likely to drop out.)
And review your students' quiz results so that you can see how much they're learning.
On the front end:
Students can see where they are in the course
Students can see how they scored in each quiz, each time they took it
Quiz Tracking
In fact, that quiz tracking feature won't just tell you the results. It will also show which quizzes each student took, as well as the score for each attempt, the dates they took it and the number of times they tried.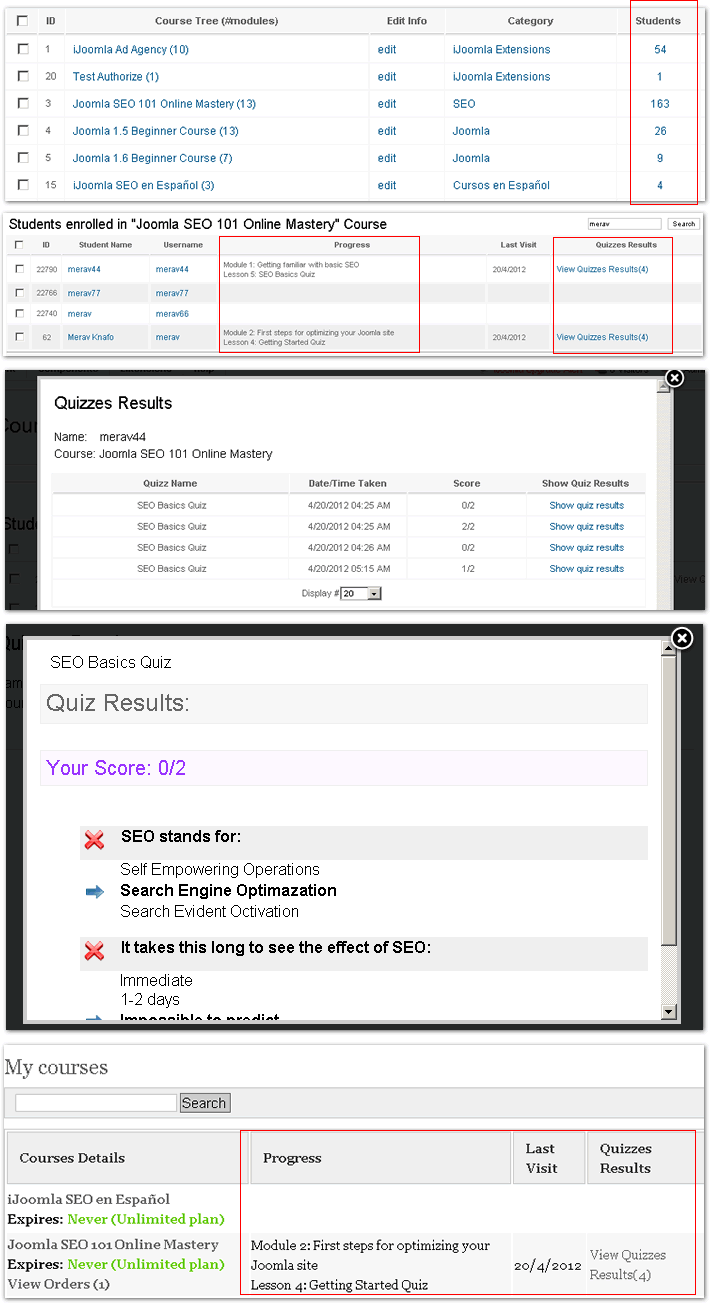 Quiz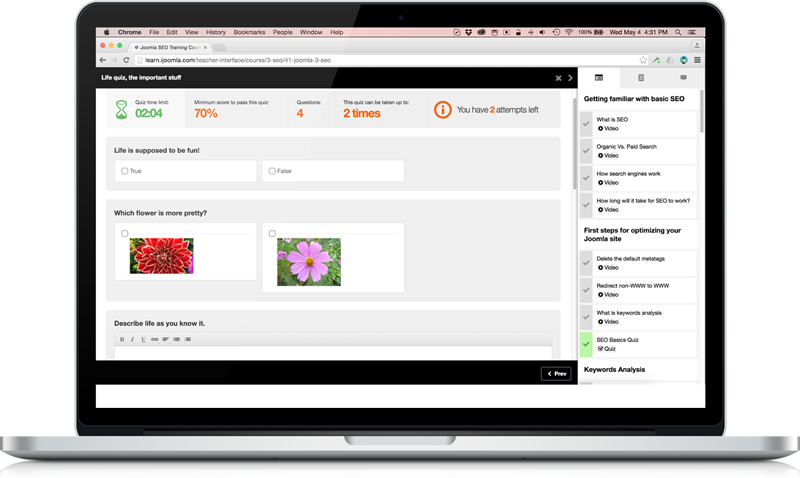 Add quizzes throughout your courses to test your students understanding of the material.
Joomla LMS learning quizzes are a great way to find out if your students understand the learning material.
The Quiz Manager allows you to create quizzes that you can later add to your lessons. Quizzes are great to make sure that your students understand the material they've been studying so far. You can add quizzes to your course modules inside a lesson.
You Can See All of Your Quizzes on the Quizzes Manager:
On the Backend:

Create a New Quiz, Add a Name and a Description on the General Tab:
On the Backend:
On Frontend Teacher Interface: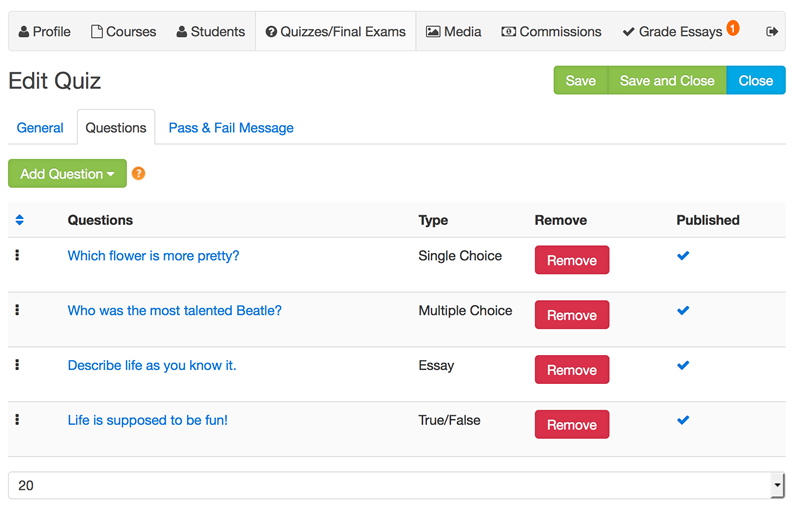 Add additional optional quiz options
Enter a minimum passing score.
Set a time limit in minutes to submit the quiz.
Choose the number of times the quiz can be taken.
Define the number of available questions selected randomly to construct the quiz.
Question weight to decide which questions are more important than others.
Add media to quiz questions
Add media to quiz answers
Manage Your Questions in the Questions Tab:
On the Backend:
Edit the Question and the Possible Answers:
On the Backend:
On the Frontend Teacher Interface:
The Quiz Looks Like This on the Front-End: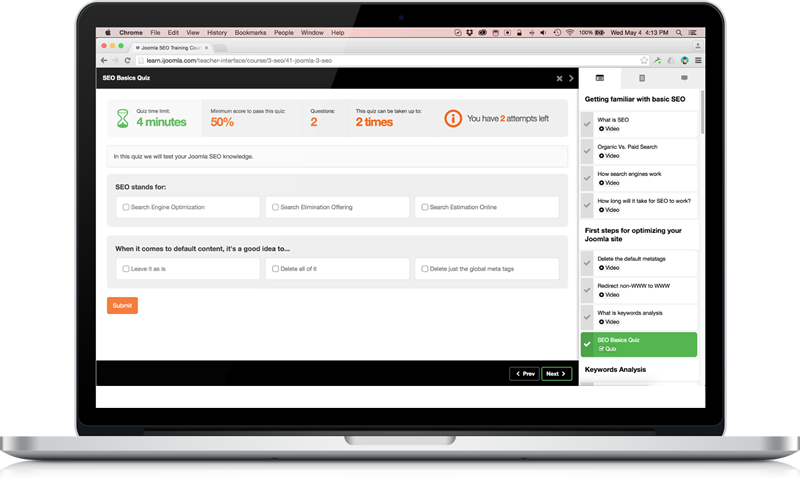 After submitting the quiz, it looks like this:
The student can see which of the questions he got right and wrong.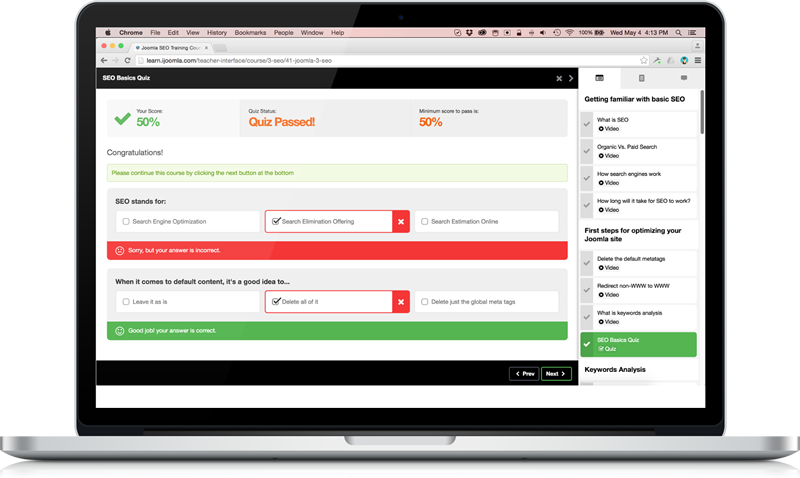 You can also add any media to your questions or to your answers (images, videos, etc.)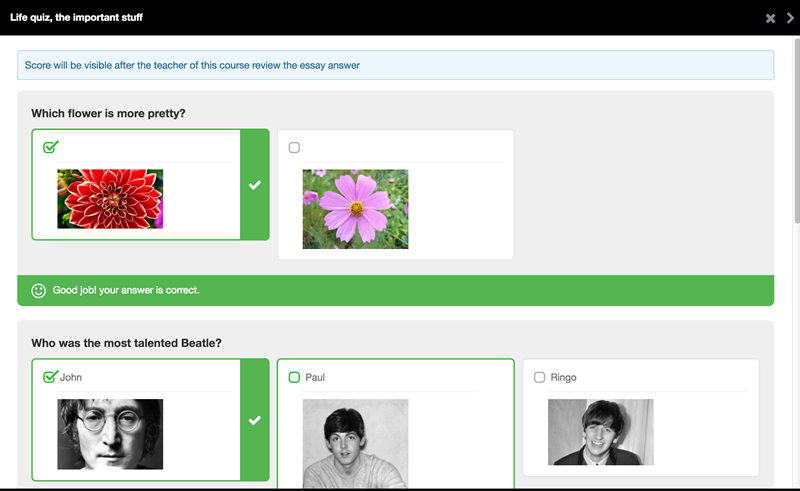 You can download/export the quizzes results in PDF of CVS format:
Students can view their quizzes on the frontend:

Final Exam
dd a final exam to your courses to test their understanding of the course material
In addition to adding quizzes throughout the course, you can now also set up a final exam built from questions in the various quizzes.

Because you can set an exam as a criterion that students must pass, the Final Exam feature is closely related to the Certificates feature.
How to add a final exam:
Go to Quizzes Manager, Click New, Choose "Final Exam."
Give your exam a name and complete the rest of the fields.
Switch to "Quizzes Included." Click "Add Quizzes."
Choose the quizzes to include in the final exam and press "Save."
Open Courses Manager and click "Edit" to open the course.
At the bottom of the General tab, choose the final exam to assign to this course.
The final exam will show as the last lesson of the last module on the front end and back end table of content.

Teacher Interface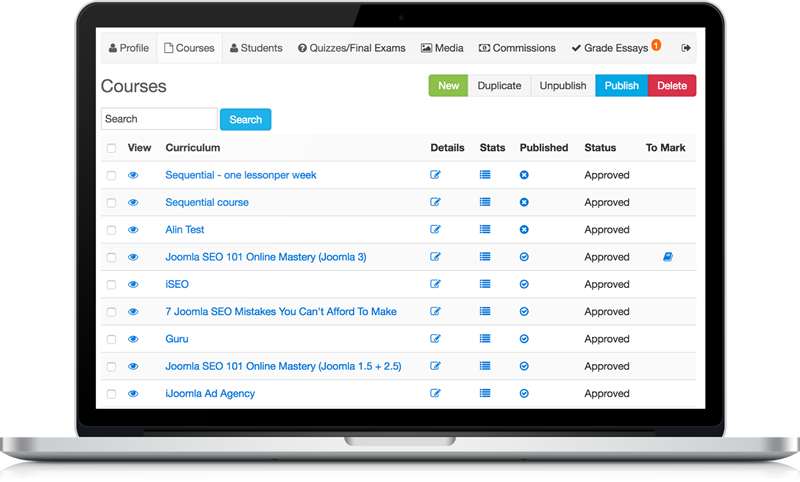 Your teachers can prepare whole courses themselves, letting you collect either a percentage of the sales or a set fee. It's up to you.


Teacher Registration Is Easy
Your teachers can register quickly, receive your approval, then start working on their courses right away. You will be notified when a new teacher requires your approval.
Review, Publish, You're Done!
When teachers can prepare their courses without the help of the site's admin, all you need to do is review the course and publish. You'll have all the time you need to promote the course, bring in students and make money!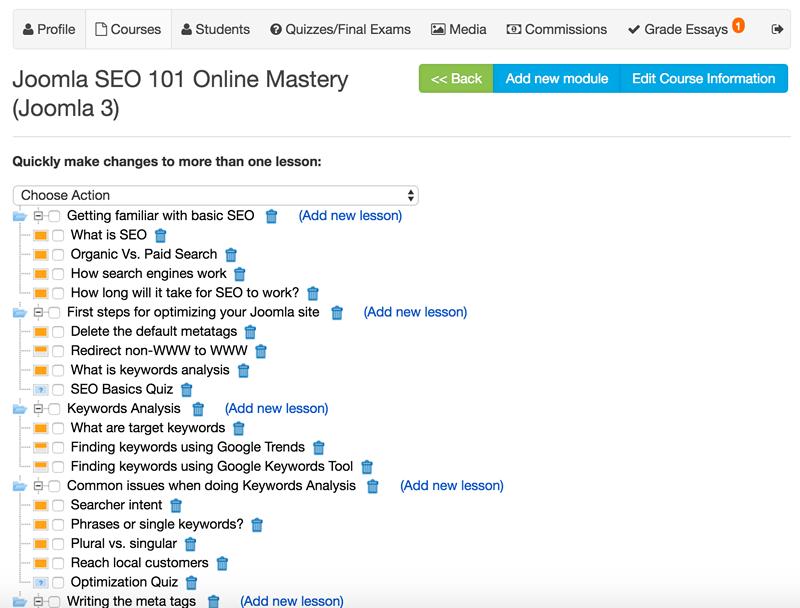 Teachers Can Create New Quizzes And Add Media
To build a really comprehensive course, teachers will need to be able to add quizzes and media. Teachers can do that by embedding media, linking to it or uploading it directly to your server.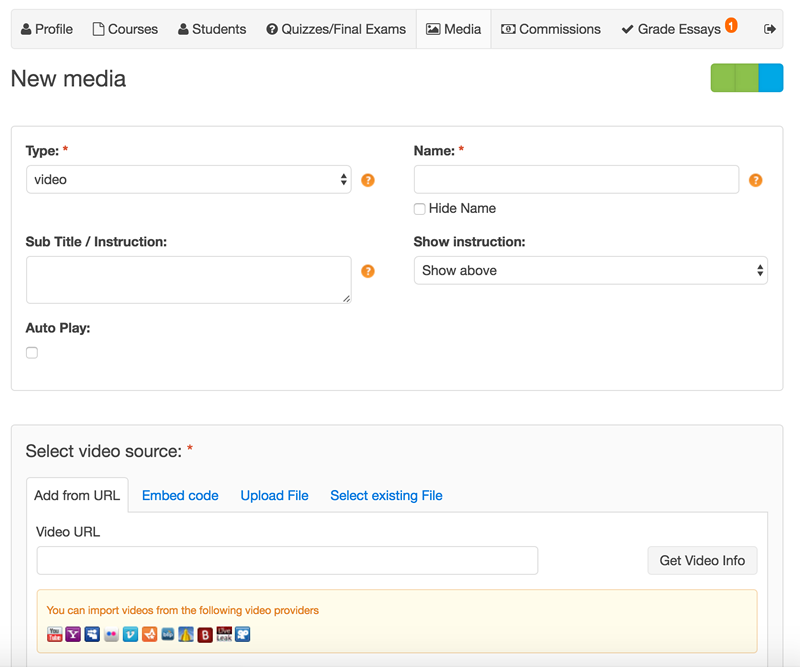 Stats About Students
The teachers' interface also gives teachers stats about their students and full access to quiz results. They can see how well students are doing and receive detailed information that shows which students succeeded where — and where they need to work harder.
Grade Essays
Teachers can easily grade student's essays and even leave a comment.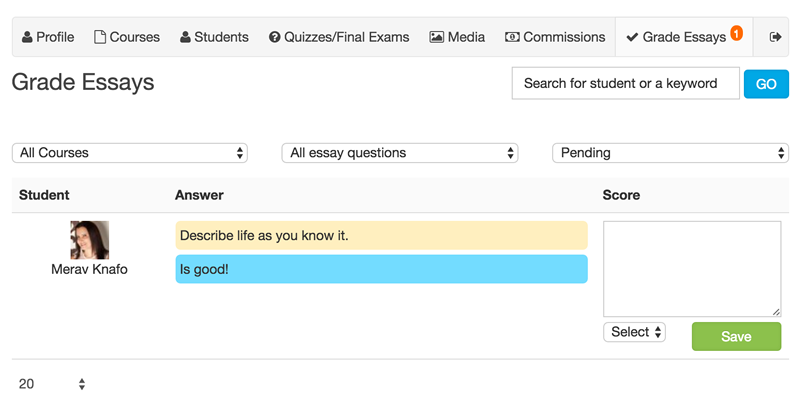 Student Interface
Student interface allow students to view their courses, their quizzes and test scores and their certificates.
My Courses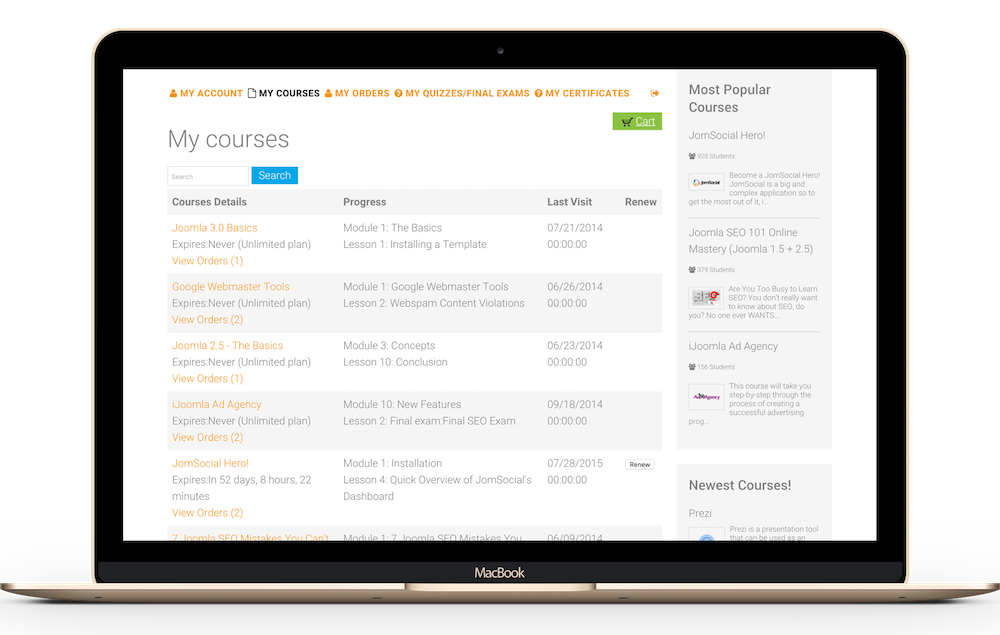 My Quizzes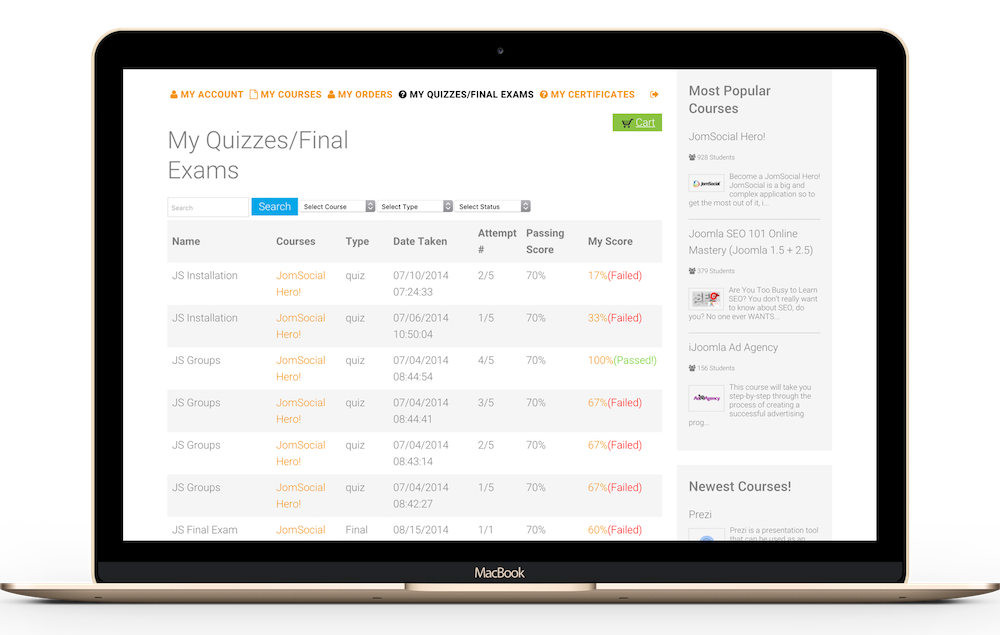 My Certificates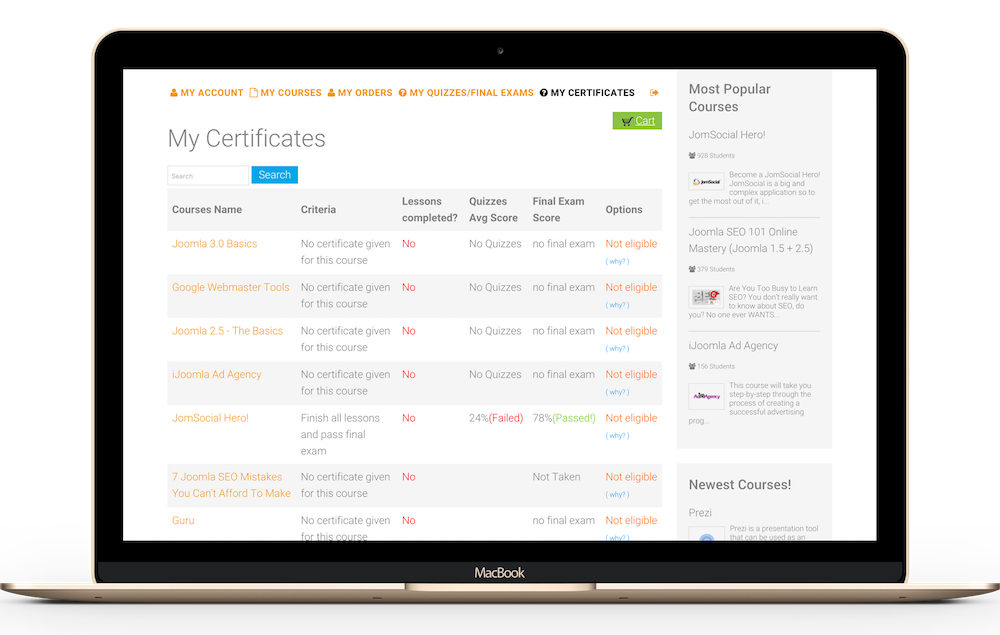 Admin Interface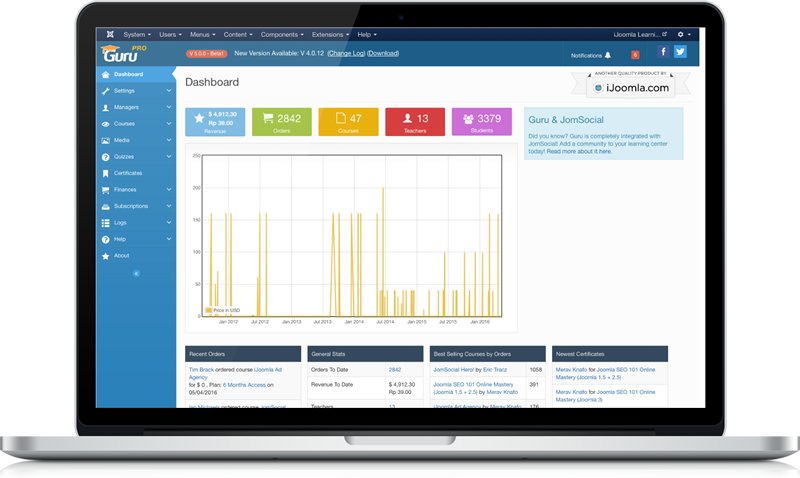 Admin has full control over courses, teachers, students, payments, promo codes, quizzes and so much more.
Course Manager
Add/edit courses, view students of the courses and their progress.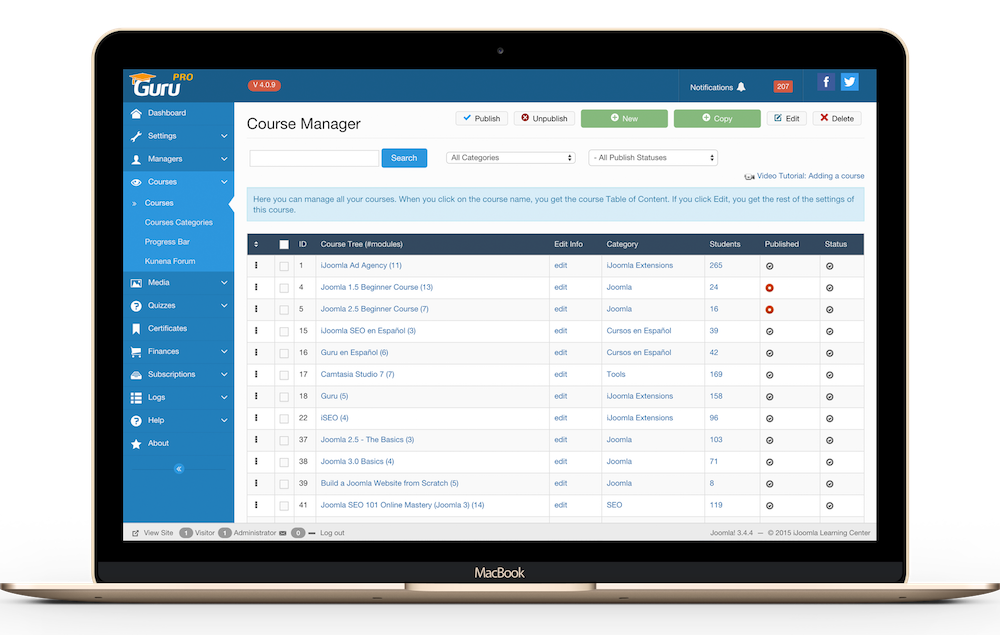 Student Manager
Add/edit students, reset student courses or remove students from a course.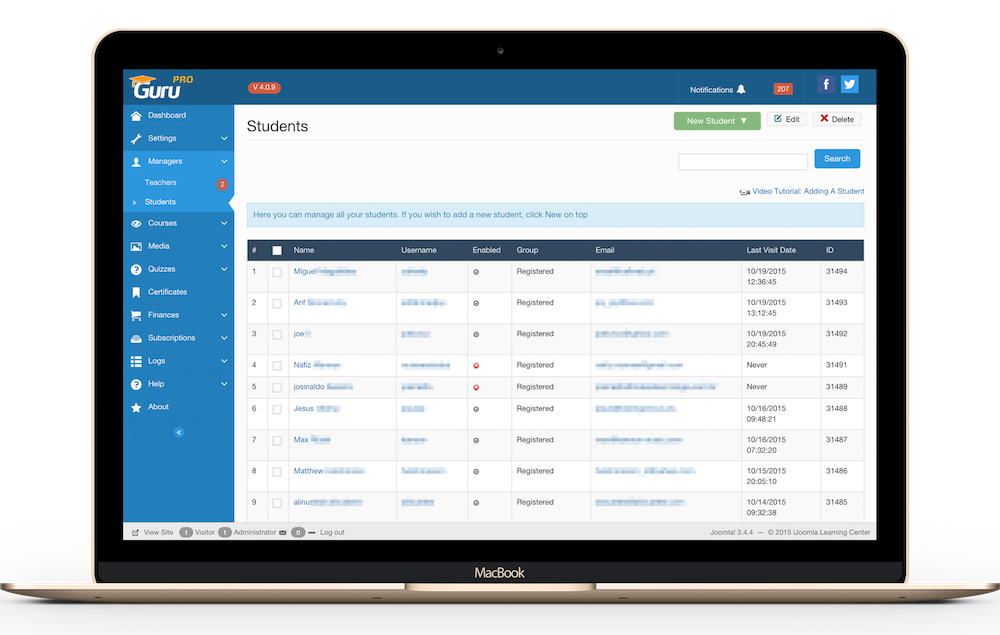 Teacher Commissions
Set commissions for teachers, make mass payments, export payments to PDF or XSL.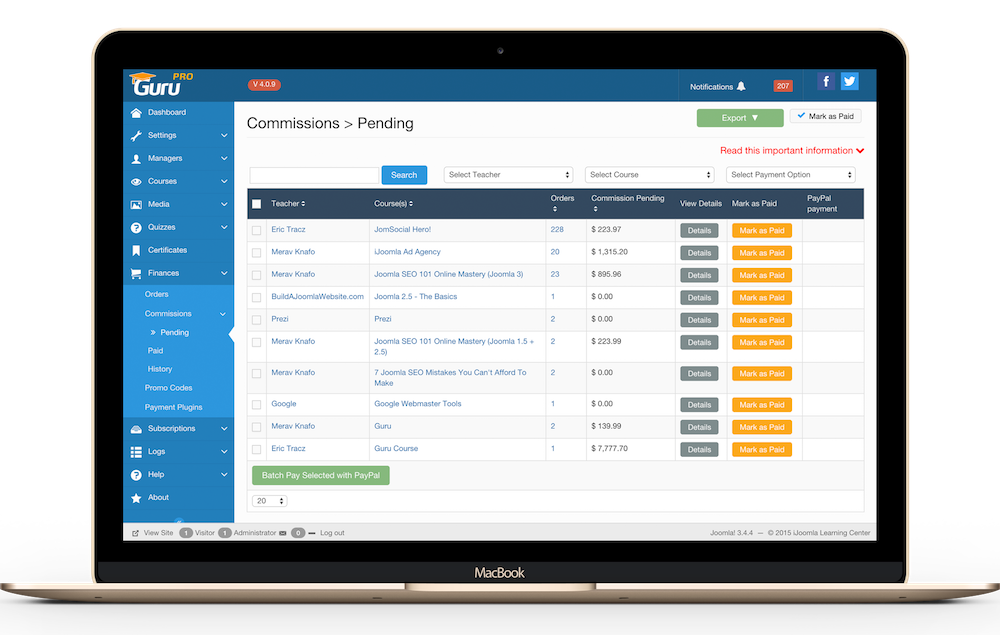 Promo Codes
Create promo codes, assign to courses.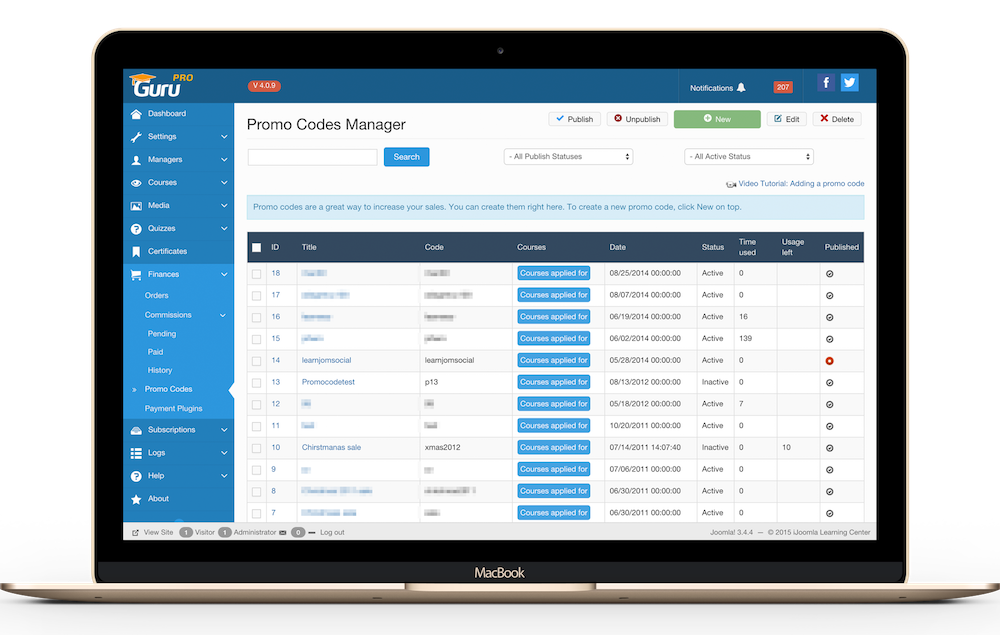 Quizzes & Final Exams
Create unlimited quizzes or final exams, add questions, attach media to questions or anwers, set a timer, and so much more.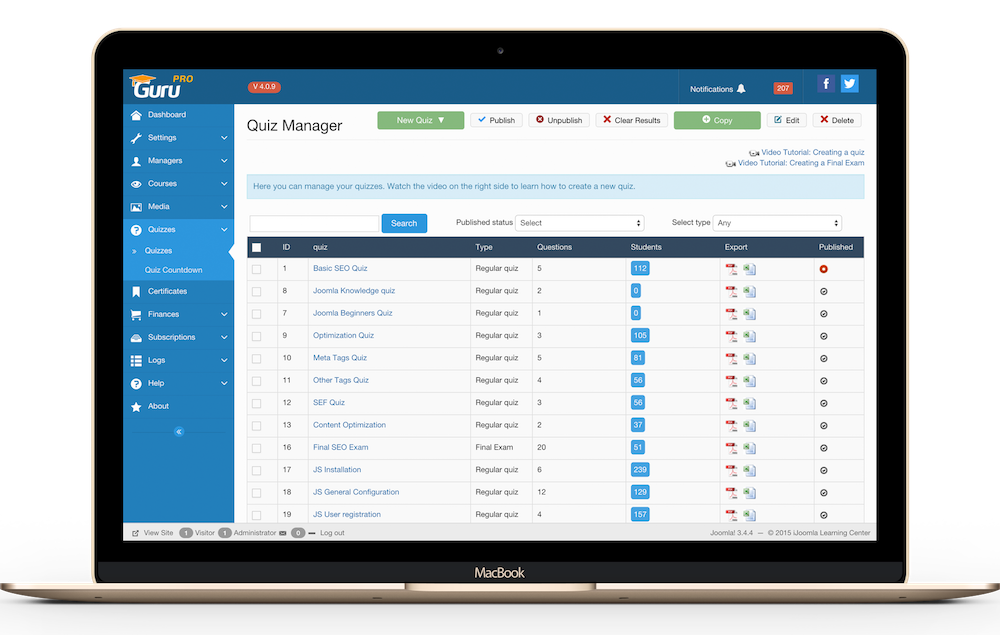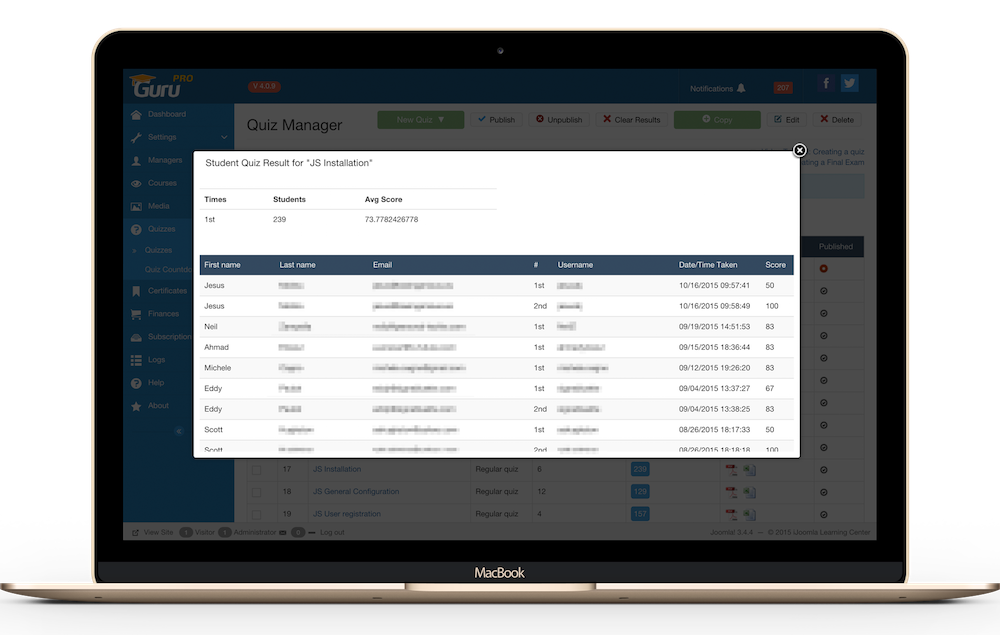 Certificates
Set up certificates, set certificate terms for each course, choose the design and which details to show on the certificate.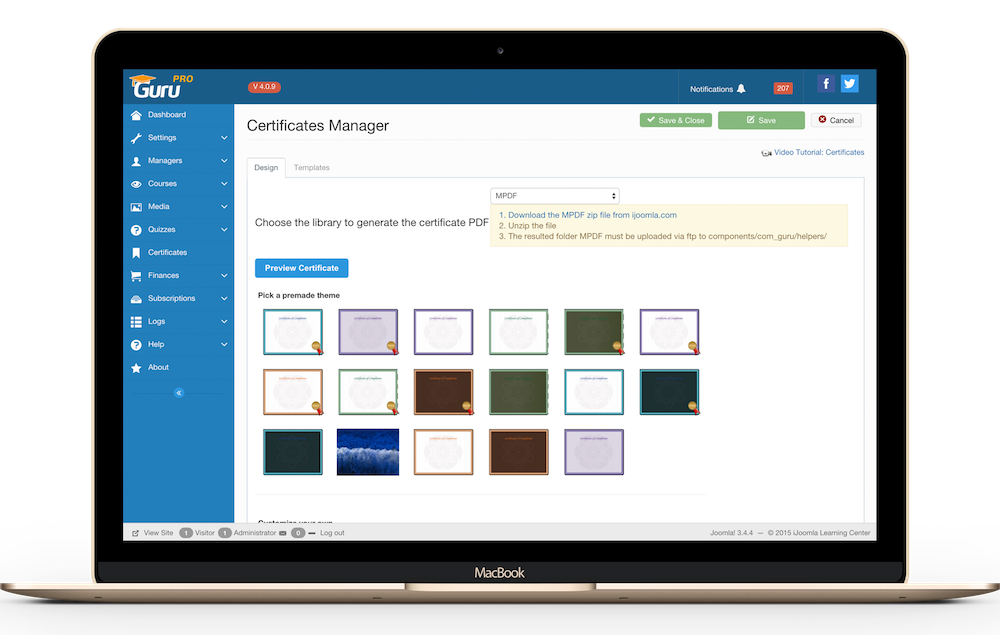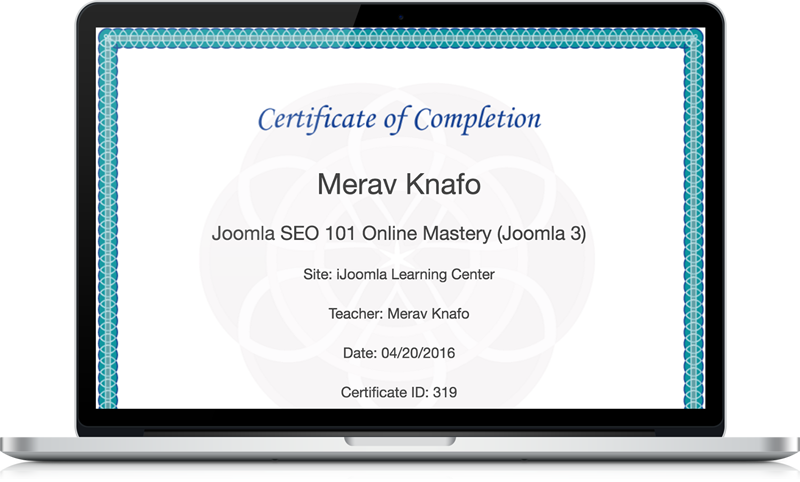 Giving your students certificates validates your courses and helps them get jobs!
Why are Certificates a great idea?
If your potential students know they can get a certificate that will help them get hired or improve their resume, then there is a much better chance that they will sign up for your courses! More students = More cash for you!
Certificate Designs
Guru comes with 16 beautiful certificate templates you can choose from. You can add your logo to any of the templates and you can even upload your own template, just create a 800x600 px image and upload it.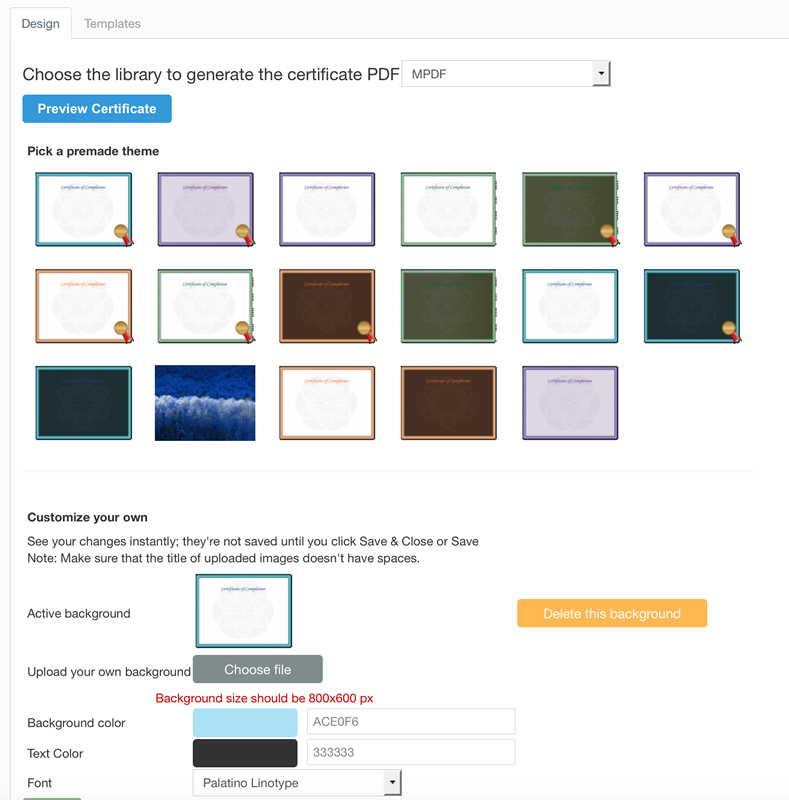 Content and Email templates
Choose what information will show on the certificates (name, course, etc.)
Control the content of the email the student gets when he/she is eligible to a certificate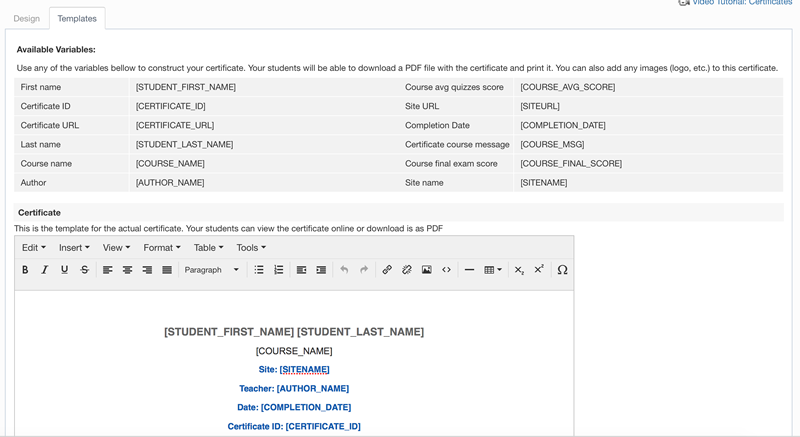 Front End Features:
We added a new page to the student interface "My Certificates". On this page students can:
View their certificate
Download it as PDF
Share it with a link and
Email it
If they are not eligible for a certificate, for any reason, they can see why.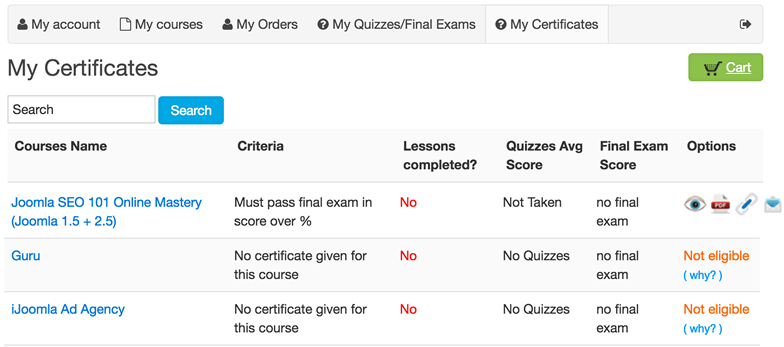 Clicking on the email icon opens this pop-up and allows the student to email their certificate.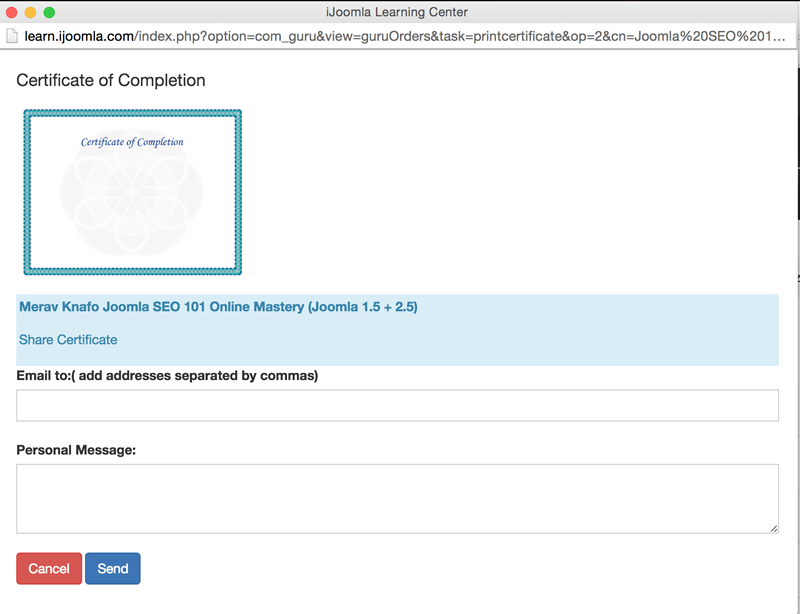 Clicking on the link icon opens this pop-up. It allows them to copy a direct URL to their certificate:

Certificate Terms:
How does Guru know which of the students deserves a certificate? When you create/edit a course, you can choose any of the terms below:
No certificates
Completed all the lessons
Passed the final exam
Passed the quizzes in avg of x%
Completed all the lessons and pass the final exam in avg of x%
Completed all the lessons and pass quizzes in avg of x%

The final result: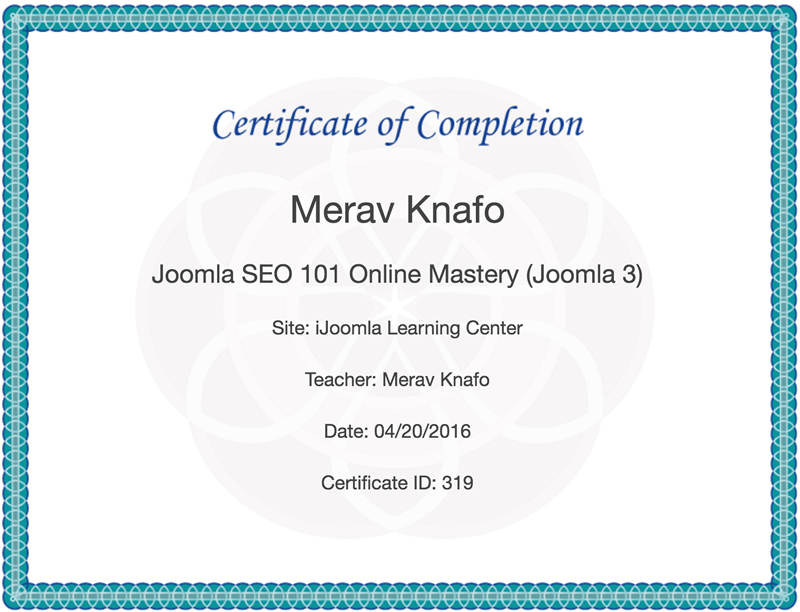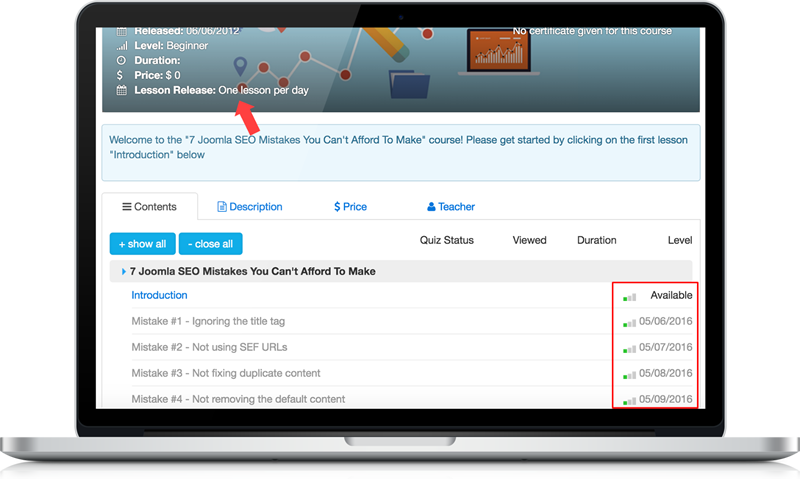 Release your lessons gradually and keep students coming back for more daily/weekly
This feature allows you to release their lessons gradually — once a day or once a week or once a month. Not only can you stop students jumping around on the course, you can now use your course as a marketing machine. Send students an email each time a lesson is ready and you'll bring them back to your site automatically. They'll stay on your course and renew their subscription to gain access to the remaining lessons. You'll get more money in your pocket.
How It Works
Backend
On the Lesson Edit page, choose the type of course you wish to create:
Non-Sequential – All lessons are available as soon as the student signs up.
Sequential – Lessons are available one at a time, every day/week/month.
You can also choose how unavailable courses will be displayed on the course table of content:
Show all lessons, including the unavailable ones. (Unreleased lessons ones are gray and not clickable.)
Show only the available lessons.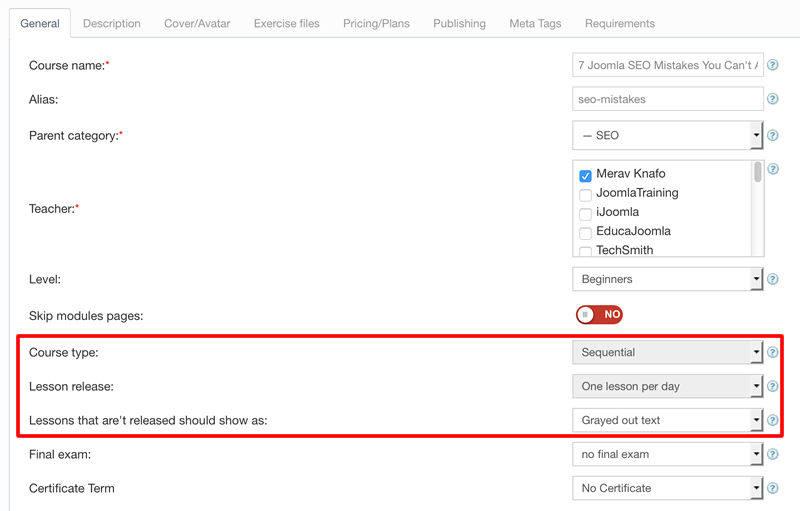 Once you make a course sequential,
it's very important that you add an automatic email reminder
that will send your student an email each time a lesson becomes available for them.
Go to Courses Manager and click Edit next to the course you made sequential
On pricing/plans tab check the box next to the email "New Lesson"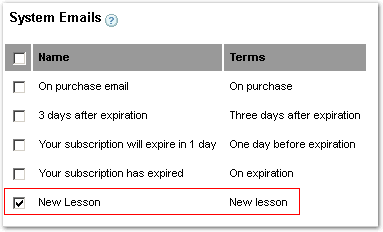 You can always edit the content of this email by going to Subscriptions->System Emails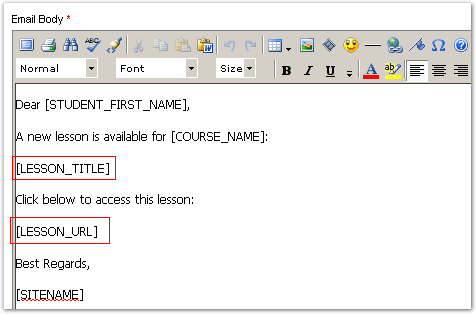 Front End
Available lessons will display the word "Available". Lessons that are not yet available will display the date on which the lesson will be released to the student. (The date will be different for each student.)